Dewatering Bags
Bag Filter for Sludge Dewatering Filtration
Dewatering bags are available with bulk priving and ships to you! Sediment dewatering bags are an economical solution for any site dealing with storm water runoff, dewatering, or filtration. Easy to install, use, and empty, these bags help remove sediment so that flows from your site remain clear and free from debris. Bags have been effectively used on construction sites, dredging locations, ponds, or in other areas with polluted water.
Silt bags are constructed from an eight ounce (8 oz.) or ten ounce (10 oz.) nonwoven filter fabric that effectively removes items as water filters through the material. Each dewatering bag features a single port that can accommodate hoses up to 4" in diameter.
Our friendly staff is here to help you get the exact product you need!.


Watch A Dewatering Bag Work!
Dewatering Bags Features




Material: Nonwoven Geotextile (8 oz. or 10 oz.)
Inlet: Accommodates Pipes or Hoses up to 4 inches
Standard and Custom Sizes Available

Dewatering Bags Benefits




Cost Effective
Reliable Filtration for Storm Water Runoff
Folds up for Shipping and Storage
Standard Sediment Bags Dewatering Applications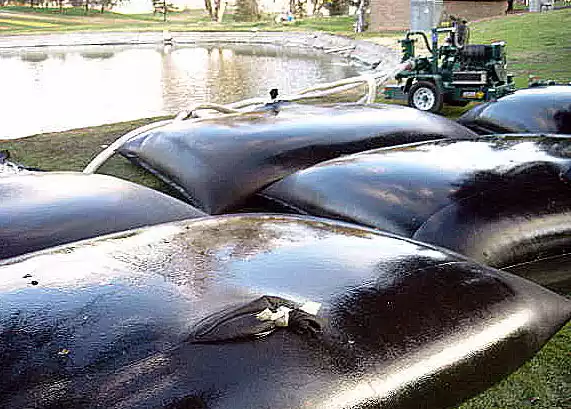 Pumping in Trenches
Sediment Removal in Small Ponds
Dewatering on Municipalities or Power Plants
Construction Site Runoff Filtration
Sludge Dredging
Have a large dewatering or sludge removal project? Need extra containment in your bags? See our Dewatering Geotextile Tube. Larger in size and capacity, these tubes are able to store significant amounts of material in a single storage container.
Dewatering Bags Technical Specifications
Standard Sizes
Nonwoven Filter Fabric
Filter Properties*
Capacity Guide**
Cubic Yards/Bag
6' x 6'
8 oz.
80 gpm/ft²
1.44
10 oz.
60 gpm/ft²
15' x 10'
8 oz.
80 gpm/ft²
6
10 oz.
60 gpm/ft²
15' x 15'
8 oz.
80 gpm/ft²
9.6
10 oz.
60 gpm/ft²
15' x 20'
8 oz.
80 gpm/ft²
12
10 oz.
60 gpm/ft²
15' x 25'
8 oz.
80 gpm/ft²
15
10 oz.
60 gpm/ft²


*Flow rates are based on fabric ratings. During the dewatering process, times may slow depending on the sediment content of your water and geotextile bag size. Please contact our sales team to discuss pumping rates for the duration of your project.

**Capacity is estimated only and is intended as a guide to users. Volume per bag is dependant on soil composition, site conditions, and use. Information is provided in good faith. Actual field trial are the only true bench mark for site specific results.
Dewatering Bags Disposal
Standard procedure for disposing of dewatering bags involves a process of cutting open the bag and remove/disposing of the sediment. If soil contents are contaminated or should not be disposed of in the area, bags can also be placed in dump trucks, box trucks or dumpsters for easiest transportation to a disposal site.
You can download and fill out our short dewatering questionnaire and tell us more about your project. This will help us tailor our services to your specific needs and offer you the best options.

Customers Who Viewed This Product Also Viewed


Geotextile Tubes
Silt Fence
Breakwater Dewatering Tubes
Questions about dewatering bags? We can help! Call our team at 1-863-261-8388 or fill out our quote request form to discuss your sludge filtration requirements.